CHRISTMAS AND NYE CELEBRATIONS IN BELGIUM
---
CHRISTMAS AND NEW YEAR´S EVE CELEBRATIONS IN BELGIUM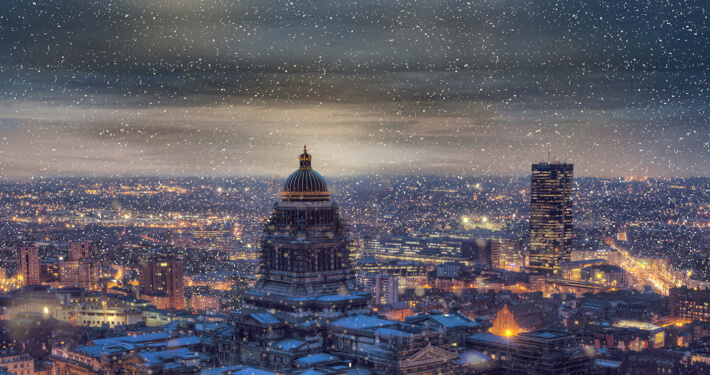 Belgium is the perfect festive season destination, with the feast of Sinterklaas (or St Nicolas) kicking off the fun during the first week of the month, Christmas on the 24th and 25th, and then the celebratory cherry on the top- New Year's Eve on the 31st. Belgium may be a small country but it certainly goes all out when it comes to Christmas and New Year's celebrations. Find out more about some of the unmissable opportunities for merrymaking during your stay in Belgium.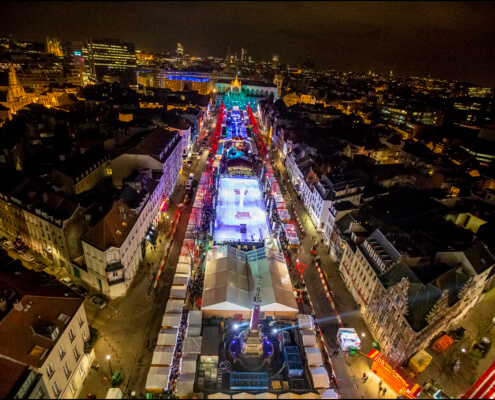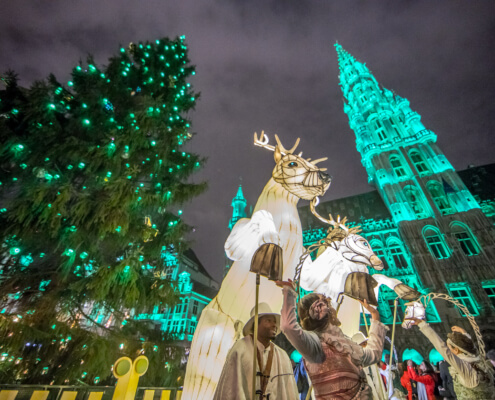 ---
WINTER WONDERS AND CHRISTMAS MARKET
A Christmas tradition Belgium is famous for is its cosy Christmas markets, held in most major towns and cities. A particular favourite is the Christmas Market at the Winter Wonders event in Brussels.
Winter Wonders 2018 celebrates the home of Santa Claus himself, Finland, with traditional delicacies, firepits, music, dancing and an installation where visitors can experience the beauty of Finnish nature. This exciting winter festival features fairground attractions, a covered ice rink on Place de la Monnaie, a magnificent 22 meter high Christmas tree on the Grand-Place, choral performances and the pièce de résistance for Christmas shoppers- the Christmas market with more than 200 stalls for those all-important gifts, decorations and stocking fillers.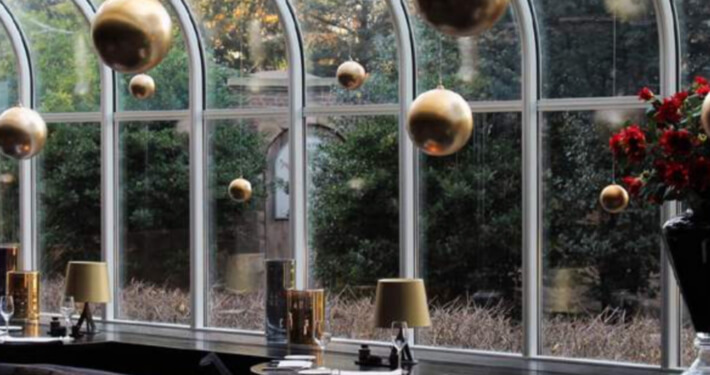 CHRISTMAS IN BRUSSELS
If you're lucky enough to be celebrating Christmas in Belgium then you definitely won't want to miss out on a Christmas dinner in Brussels. Join in the Belgian tradition of a special meal on Christmas Eve (Kerstavond' or 'le réveillion de Noël'). Why not book Christmas Eve dinner at The Restaurant, where you will be treated to a 6-course gourmet meal. Reservations are essential for this jovial spread in true Belgian style.
The Hotel also offers a Jingle All The Way package, which includes not only a reservation for Christmas dinner at The Restaurant but also comes with breakfast included and a 15% discount on the best available rate at The Hotel. Set in luxurious surroundings in the heart of Brussels, you can take it easy and enjoy a Christmas Eve feast fit for a king. Reservations are absolutely mandatory, so it makes a great package for those wanting to stay in Brussels over Christmas without worrying about cooking Christmas dinner.
Did you know that in Belgium, people celebrate with a hearty Christmas feast on Christmas Eve rather than Christmas Day when instead they relax with family and friends or attend a church service?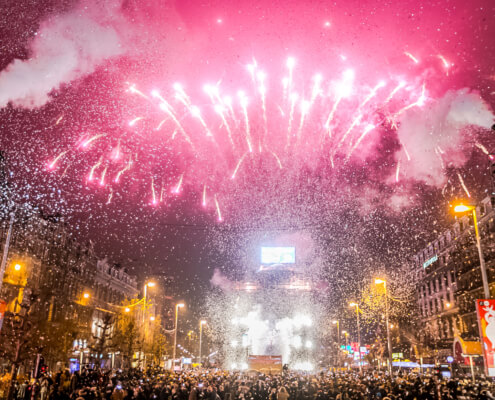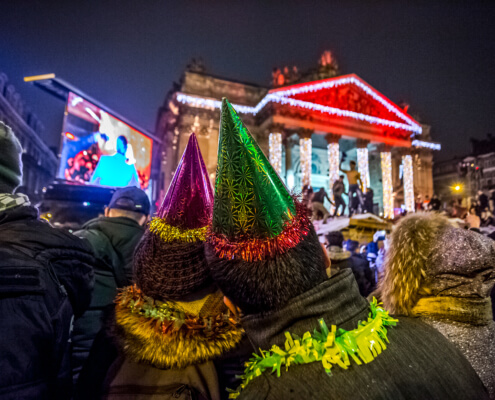 NEW YEAR'S EVE IN BRUSSELS
Brussels makes for a charming destination to spend New Year's Eve (or Saint Sylvester's Day as the locals know it). As it is tradition to ring in the new year with a feast in Belgium, The Restaurant at The Hotel will be putting on a sumptuous banquet on December 31st. The aptly named Ring In The New Year package includes a stunning 7-course meal combined with breakfast and a 15% discount on the best available rate, so you can retire to the comfort of your hotel room after ringing in the new year.
Alternatively, spend New Year's Eve at Vista 27 and enjoy a buffet dinner before dancing the night away with our very own DJ. Located on the 27th floor, you will have amazing 360° views across the city as you count down to the new year. Vista 27 makes for an excellent place to watch the fireworks at midnight!
Did you know, St Sylvester's Day is named for the 4th century Pope Sylvester who was buried on December 31st? He is famous for overseeing the Council of Nicea and Emperor Constantine's conversion to Christianity.
Regardless how you like to celebrate the holiday season, a visit to Belgium caters to everyone. Whether you have children and want to explore the Christmas markets or want to dance the night away on New Year's Eve with friends, there is something for everyone in Belgium during the festive season. Make The Hotel in Brussels your base for exploring all that the city has to offer during this special time of year.