HAVE GREEN MEETINGS & EVENTS AT THE HOTEL.
---

A greener way to plan your meetings and events at The Hotel.
Located in uptown Brussels, The Hotel offers meeting rooms bathing in natural daylight with stunning panoramic views over the city. There is a multitude of configurations to choose from to make your meeting or event an experience your guests will never forget. We recently obtained the "Green Key" Certification for the eco-responsible initiatives we have undertaken in the past years. In order to raise awareness amongst our clients, we have decided to launch a special MICE initiative in collaboration with The Royal Forestry Society of Belgium (SRFB). The initiative's moto is: "Plan an event, we will plant a tree".
From April to September, for every 5000€ spent at The Hotel on Meetings or Events, the Royal Forestry Society of Belgium (SRFB) will plant 100 trees in your company's name.
The Hotel has a lot to offer :
Premium deluxe property

12 functional meeting spaces

Capacity up to 400 delegates

Catering signed by Pierre Balthazar

Book by using the code "TREE" and get involved in the reforestation in collaboration with The Royal Forest Society of Belgium.
Who's The Royal Forestry Society of Belgium?
The Royal Forestry Society of Belgium (SRFB) is a non-profit organisation, created more than 125 years ago, which is supporting reforestation projects in Belgium.
The purpose of the SRFB is to make forest and foresters known and valued. By launching this initiative The Hotel hopes that meeting organisers will be willing to 'give back to earth'.
---
---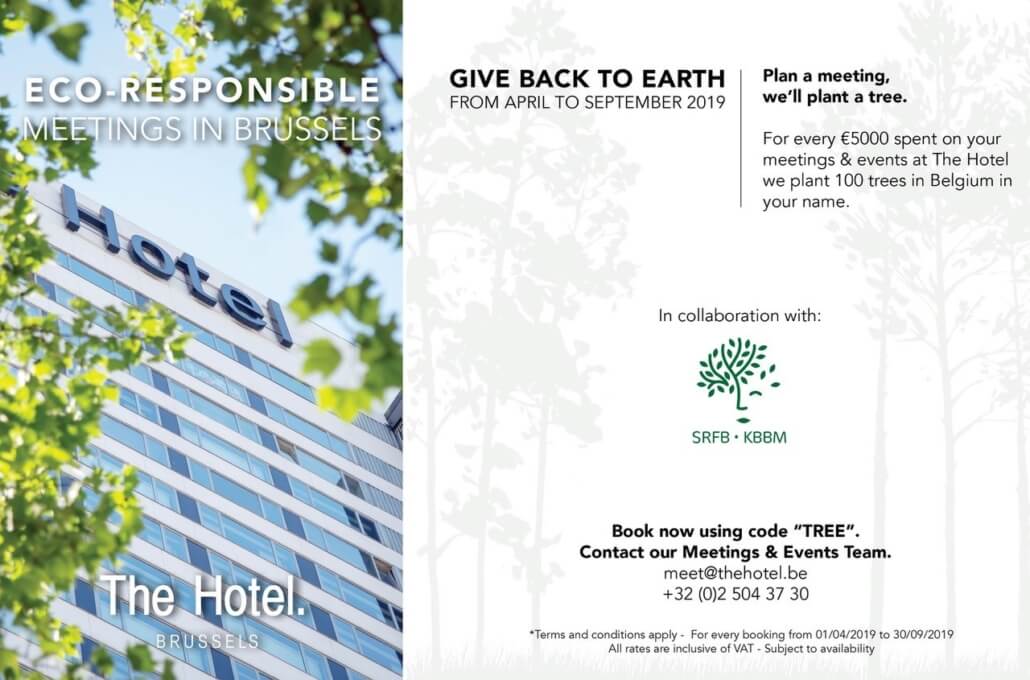 On top of that, your meeting is eco-responsible !
For every €5000 spent, we plant 100 trees in Belgium in your company's name. You can plan a meeting and be involved in the reforestation.
---
Terms and conditions* apply – for every new booking from April to September 2019, all rates are inclusive of VAT – subject to availability
*TERMS & CONDITIONS:
Offer taking place from 1.04.2019 to 30.09.2019 and applies to all new groups and meeting & event requests booked within this period.
For every €5000 excluding VAT spent and paid, we'll plant 100 trees in Belgium in your name with a maximum of 1000 trees per confirmed business.

Qualifying amounts include meeting room rental price, food & beverage expenses and accommodation costs of overnight delegates booked by you, the meeting organiser. All amounts are calculated exclusive of VAT. External services like (but not limited to) audiovisual rentals, floral decoration… do not qualify.

The organiser is responsible for informing his/her company on the rewards and making sure that accepting the rewards is in line with his/her company's policies. In case the organiser cannot accept rewards to his or her attention, the vouchers can also be issued to his/her company.