BED SHEETS MADE FROM PLASTIC BOTTLES? AT THE HOTEL WE DARE.
---
The Hotel does many efforts on a daily basis to be more sustainable and to reduce its ecological footprint. Proudly awarded with the Green Key label last year, we want to go further. The Hotel is constantly trying to establish new sustainable collaborations with responsible partners. Blycolin has been one of those partners for years now. But who are they exactly? And what do they do?
Blycolin started by offering a range of high quality laundry services and the leasing of bed and bathroom linen. Recently they also started the development of high-end premium bed duvets. Apart from an exceptional quality, these duvets are also extremely sustainable. Made from 100% organic and fair trade cotton, they are filled with recycled PET. With a filling weight of 400gr/M2, they guarantee comfort while still meeting the strict requirements of the Global Organic Textile Standard (GOTS).
At The Hotel, we highly encourage initiatives like this, so we immediately jumped on the bandwagon. We have purchased a considerable amount to ensure the best sleep quality for our guest. Now they can sleep on both ears even more: comfortable, soft and eco-friendly – who wants to test them?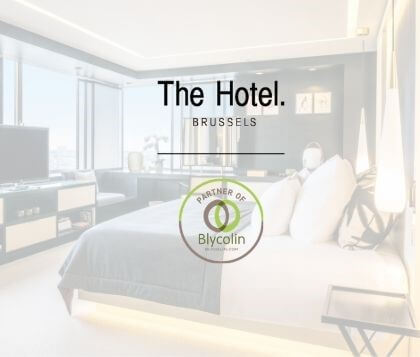 The Hotel's guests deserve the very best! Our business is, amongst other things, to ensure you an excellent sleeping comfort. By partnering with Blycolin, The Hotel, provides sweet dreams to all its guests in an ecological way.
Only the best for a wonderful stay in the landmark building that is The Hotel.
Do you have any interest in having a wonderful night? Or just dozing off and relax after a long working day?
The Hotel welcomes you at its place to try out our new sheets, duvets and moltons. Let us know your experience by sharing it with us, feedback is important. But we are sure you will be hooked!
See you soon at The Hotel.