An Interview With Silvio Folisi
Chef Folisi is the sous chef at The Iris. He and the entire kitchen team create a new menu every month to deliver a delicious and sustainable meal to you.
Q. What is your history with cooking?


A. Today cooking is often associated with refined gastronomy, Michelin starred chefs or reality TV. However, the real cuisine, the one that makes you melt and fall back into childhood, is indeed that of the heart, that of a mother or a grandmother who will not always be there.

When I was a child, I often watched my mother cook. At the age of 7 I started cooking with her. At 14, fleeing the school benches, I decided to go to hotel school. For me cooking is about telling stories; cooking without passion and without history is to make dishes without taste.


Q. What is your general history? How you become interested in cooking and how did you pursue it?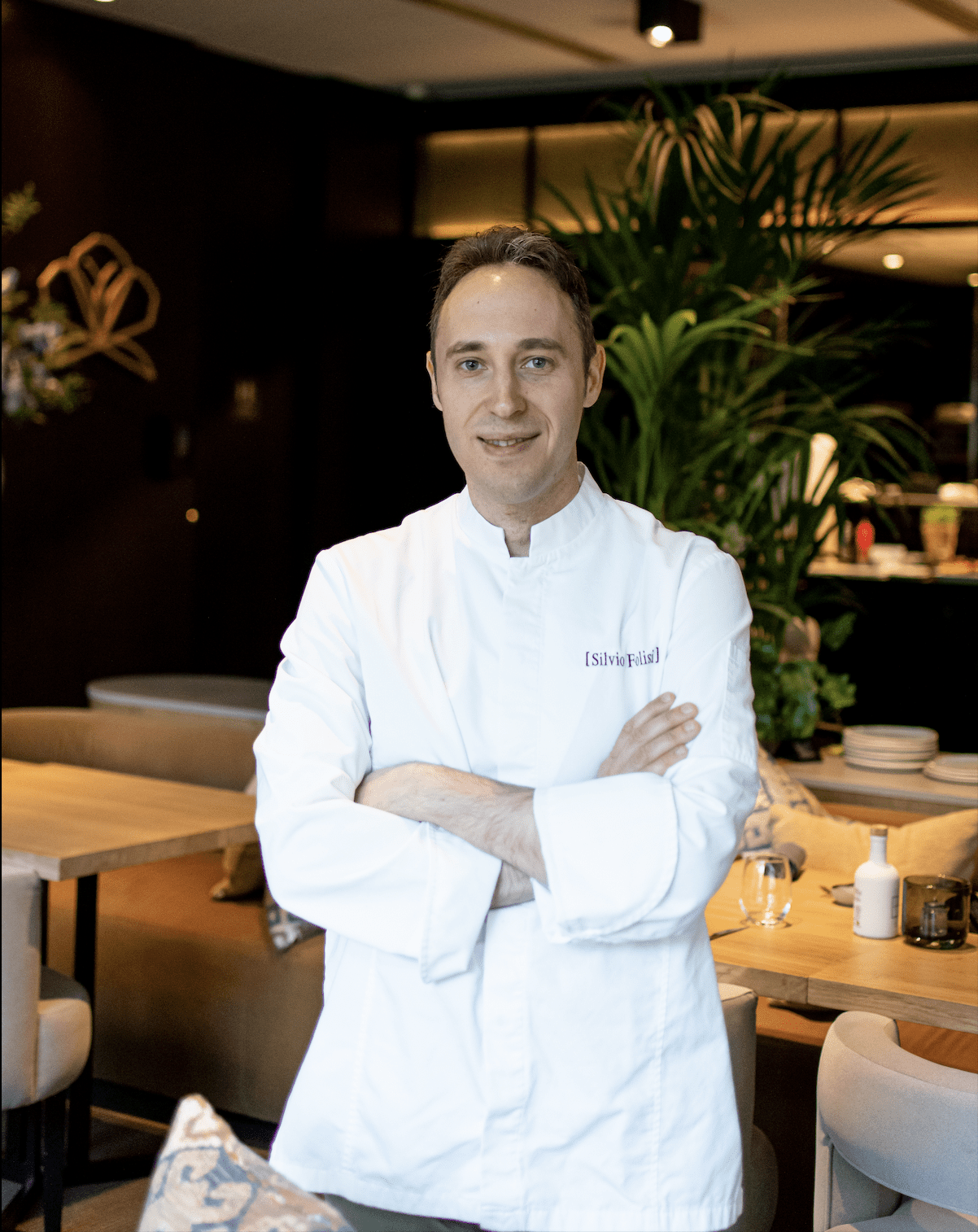 A. I've always enjoyed eating, but I never experienced a revelation that would lead me to cooking. It was during adolescence that cooking called to me as means of expression, a trigger for words!

I took my first steps here in this hotel when it was still known as "Hilton Brussels". I worked at the gourmet restaurant "Maison du Boeuf" which was very traditional. Meals were still like feasts with the expected products foie gras, truffles, caviar, etc. You had to respect the recipe and the Escoffier guide was the bible of all cooks. Through my job, I had the chance to meet some great chefs in Brussels including Jacky Chartier, Jérôme Grimonpon, David Martin, Karen Torosyan at Bozar. They are among those great teachers who, through their charisma and skills, invite you to surpass yourself. These training periods were a formative experience for me in many respects. Passing knowledge from generation to generation is essential in our professions, and creating a new concept is directly owed to a lot of meetings and the messages given to you.

When "The Hotel" and Pierre Balthazar contacted me to come back to this place, it was an obvious choice for me. I feel completely contemporary but also like an heir to a responsibility: we have been serving food in this house for more than 60 years. Combining the past, present and future of this house is my duty.


Q. How would you define your cuisine?


A. A kitchen of pleasures, generous, tasty and eco-responsible without being punitive!

All our dishes are designed after a lot of consideration and reflection. We put a lot of thought into the choice of products and their sourcing. Pierre Balthazar and I don't like blending cuisine with 10 flavors and 20 different textures. We prefer a sincere cuisine, which does not cheat and which highlights the product as it is. This is why all our creations contain only 3 main ingredients and only they will be highlighted in the recipe, in particular through a game of cooking and textures.


Q. Why do you change your menu every month at The Iris?


A. We attach great importance to the seasonality of the products. This is why you will rarely see the same dishes there. It's a real challenge! You are dependent on nature, on what she wants to give you, on the seasons.

We want focus on "the Iris", the plant in the center of the plate and not just on the side. It becomes the main course again. We can no longer remain locked into the model of the meal where the vegetable is still seen as an accompaniment. That type of thinking is not only is that irresponsible but it also overlooks the phenomenal palette of tastes that vegetables can offer.

Q. Is there anything that particularly excites you about the next menu?


A. Oh summer! The days are getting longer, the heat is felt but with it a ton of fruits and vegetables are now available. In salads, in gazpacho, grilled on the barbecue, cucumber lends itself to many recipes, especially in summer when it brings freshness thanks to the water it contains.


Q. Apart from collaborating with local producers, is there anything else you do to be more sustainable in the kitchen?


A. Reducing animal protein in favor of vegetables, for example, helps to reduce greenhouse gas emissions. Elimination of single-use plastic containers. Exit vacuum cooking for fish or meat. We also fight against food waste. Some products can be transformed into anti-waste tools such as blenders which, for example, allow you to make excellent cocktails with fruits that are a little too ripe and to use all of certain fruits and vegetables, including the skins. The tops are used in cakes or in pesto. The peelings, on the other hand, can become crisps.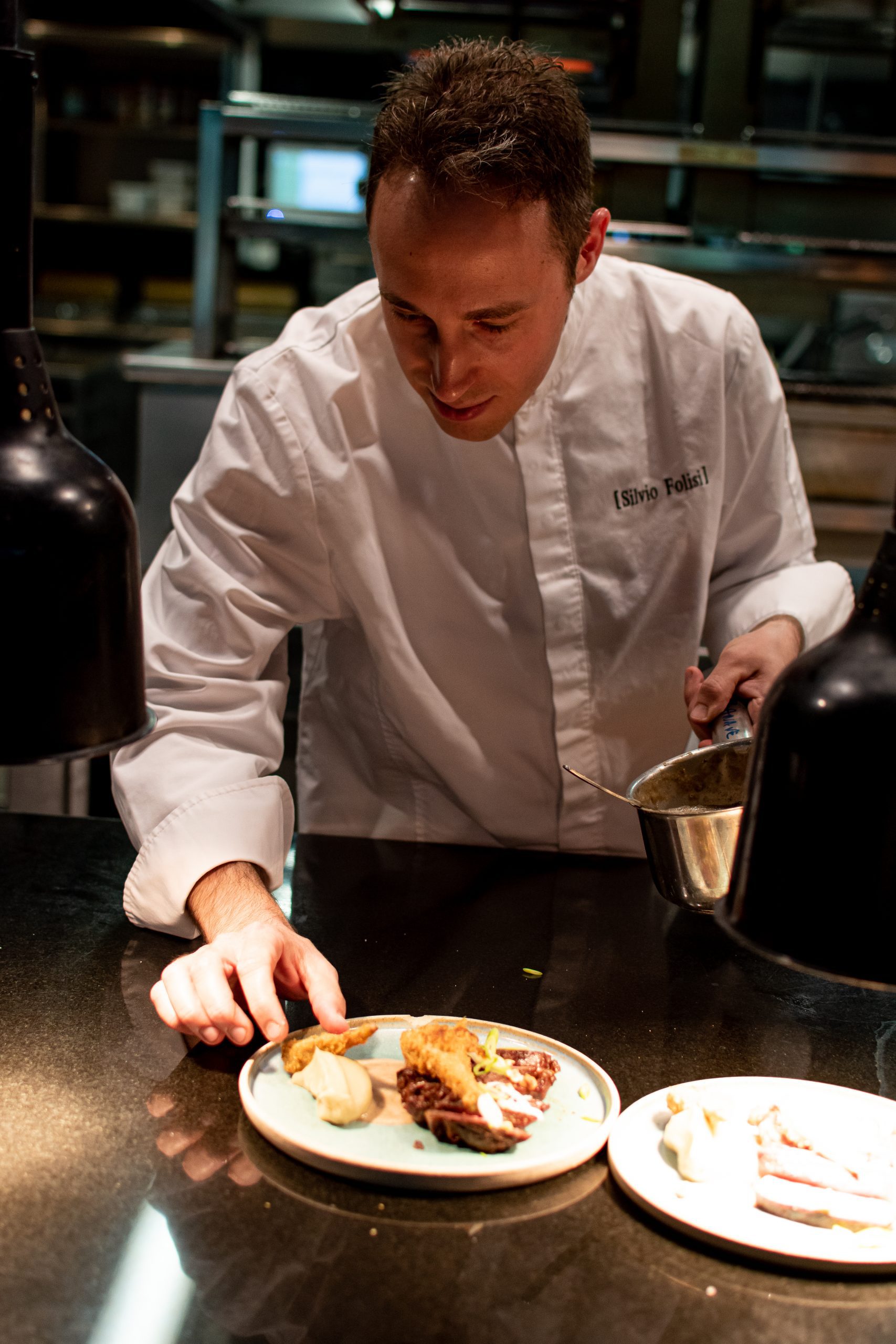 Q. Are you inspired by the multicultural chefs who work at The Iris?


A. The team is made up of several different nationalities: Bolivian, Spanish, French, Belgian, African and Italian. We value the cultural and culinary heritage in order to bring a new look to our cuisine.


Q. Have any of them influenced dishes that will be on the next menu?


A. Of course! Each team member contributes to the menu. Every week, we carry out tests for the future new menu: condiments, marinades, cooking techniques. They all influence the customer experience!


Q. What is your signature dish? Is it your favourite dish?


A. My signature dish is the salmon trout fillet which comes from the Brussels aquaponic farm of Bigh which is cooked on our "Robata grill", a grill method from Japan.

My favorite dish? Only one? …. Wow! I love my wife's cooking when I eat at home, it's the best cooking in the world!


Q. Do you have a special memory in the kitchen to share with us?


A. My best memory is meeting the customers of The Hotel every day. It was truly a pleasure to be able to return to the kitchen after all these months of absence due to Covid. Being able to serve them again, seeing the smiles on their faces again, the fact that they can come and communicate with us again and show us their support means everything to me.