GOING GREEN IN STYLE AT THE HOTEL BRUSSELS
---

At The Hotel Brussels we believe that conscious-travelling and green-living doesn't mean you have to sleep in a yurt, pick your own kale or travel everywhere with your own personal terrarium. We believe eco-friendly accommodation can be stylish, convenient and even a little bit sexy. We've spent the last few years re-thinking our impact on the environment and made some big changes to the way we work, without compromising on guest comfort or convenience. From cycling our way around the city to re-cycling our waste heat into usable energy, we've made so many changes that we've even won a Green Key. Find out more about what going-green means for The Hotel Brussels and how you can have a share.
GREEN KEY TO THE CITY
Only awarded to businesses who have shown excellence in the field of environmental responsibility and sustainability, the Green Key is not an easy achievement. But, then again, few things really worthwhile are.
We've worked with the Foundation for Environmental Education to change how we run our business and how our building functions to make sure we can maintain our green standard and we are very happy with our Green Key recognition..
CHECK OUT OUR INFOGRAPHIC ABOUT THE ECO-FRIENDLY INITIATIVES WE INTRODUCED AT THE HOTEL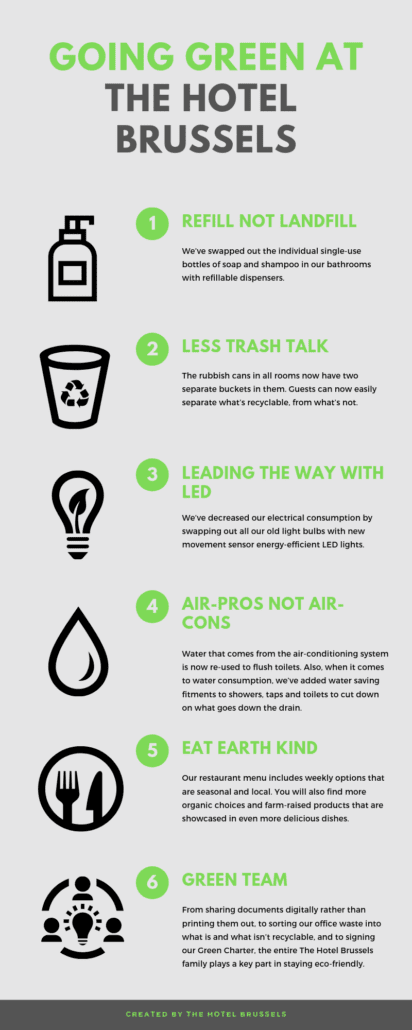 ECO-FRIENDLY AT THE HOTEL BRUSSELS
Refill Not Landfill – we've swapped out the individual single-use bottles of soap and shampoo in our bathrooms with refillable dispensers. Not only are you less likely to run out in the middle of a shower, it's also much kinder to the environment.

Clean Conscience – our body washing products are now supplied by a Fairtrade producer. The products smell great and help you to look great and make use of ingredients that are ethically sourced with less environmental and social impact. In addition, all of our cleaning products in the hotel are now environmentally friendly without compromising on cleanliness.

Less Trash Talk – the rubbish cans in all rooms now have two separate buckets in them. Guests can now easily separate what's recyclable, from what's not.

Leading the Way with LED – we've decreased our electrical consumption by swapping out all our old light bulbs with new movement sensor energy-efficient LED lights.

Air-Pros Not Air-Cons – water that comes from the air-conditioning system is now re-used to flush toilets. Also, when it comes to water consumption, we've added water saving fitments to showers, taps and toilets to cut down on what goes down the drain.

Waste Not Want Not – by recycling residual heat in our cogeneration plant, we've cut our energy consumption by a quarter. In the process we've also cut down on our CO2 emissions by 20%.

Eat Earth Kind – our restaurant menu includes weekly options that are seasonal and local. You will also find more organic choices and farm-raised products that are showcased in even more delicious dishes.

Green Team – from sharing documents digitally rather than printing them out, to sorting our office waste into what is and what isn't recyclable, and to signing our Green Charter, the entire The Hotel Brussels family plays a key part in staying eco-friendly.
GREEN GUESTS
Going green isn't all about us, it's about you. We've been overwhelmed by the positive response we've received to some of our greenest initiatives and been especially pleased that our guests want to have a part in keeping the hotel green. During your next visit with us, here's just a few ways you can give back to Mother Earth.
Hang It Up – all you have to do is hang up your towel to show housekeeping you're happy to use it a little longer. This simple change makes a big impact on the amount of water and detergent used every day.

Skip A Clean – while we make sure that all rooms are absolutely spotless before new guests arrive, if you're staying for a few days and you would like to skip a room clean, then you'll be helping us save using cleaning products and water consumption.

Cycle and Recycle – not only is it easier than before to recycle your rubbish with our new in-room bins, we also provide bikes for guests who'd rather use pedal power to get from A to B.