Experience the Brussels Iris Sunday Brunch: A Flavourful Journey for Your Palate
---
Whether arriving for business or pleasure, Brussels is certain to leave an indelible impression. Why not enhance your journey by experiencing the Iris Sunday Brunch only offered by Hotel Brussels? Beginning 10 September, your Sundays have just gotten tastier! A host of culinary masterpieces are available for €65 euros per person and with this price, we're certain that you will be coming back for seconds.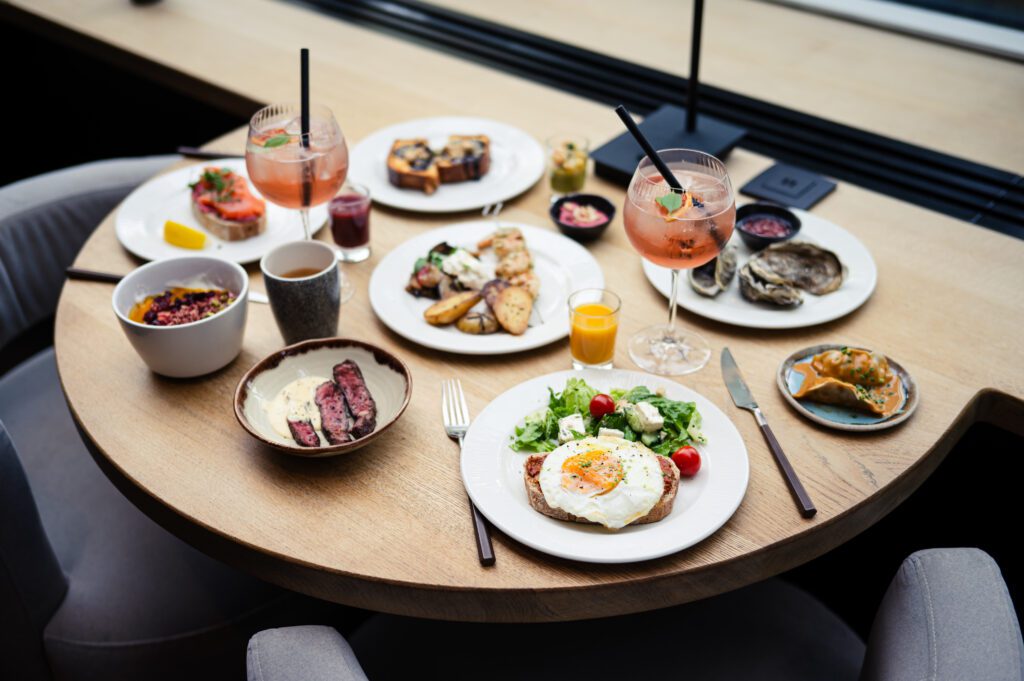 Brunch Delights
Variety is the spice of life and this is just as relevant in terms of what can only be called the best brunch in Brussels. As our foods are sourced from local farmers, you can kick off any Sunday with a fresh and healthy start. Whether you are a foodie or you have simply been looking for a tasty meal, Iris brunches aim to please. Here are some of the options found within our diverse menu:
Mozzarella, parmesan and eggplant and parmesan lasagnas.
Robata-grilled ribeye beef, Tandoori chicken and lack tiger scampi.
Grilled potatoes with a dash of rosemary.
Bacon with sauteed mushrooms.
Beef carpaccio, parmesan and arugula.
These meals can then be punctuated with a plethora of tasty baked goods including (but not limited to) chocolate and coffee verrines, rice pies, fresh fruit mousse, and a variety of yoghurts. When combined with succulent beverages such as fruit juices, homemade iced tea and vegetable smoothies, this Sunday brunch in Brussels will satisfy even the most demanding of tastes.
Fresh Flavours and Local Sourcing
Quality has always been a top priority at Hotel Brussels and this concept is not limited to our accommodations alone. We firmly believe that locally sourced products will provide a level of freshness that is simply not possible through commercially produced products. Furthermore, our team is proud to support the local farming community. This is also one of the reasons why our brunch in Brussels cannot be duplicated by other establishments. Get ready for the experience of a lifetime!
A Stylish Dining Experience
The Iris is the flagship restaurant of our hotel and it has already enjoyed a solid reputation throughout the metropolitan area. Get ready to be immersed within a luxurious and yet down-to-earth atmosphere that will provide a welcome break from the hustle and bustle of the city centre. This on-premises venue is also great for guests, as they can simply walk from their rooms at a convenient time.
We also take a great deal of pride in the personalised nature of the menu itself. From handcrafted cocktails and speciality coffees to meats that are grilled to perfection, our staff is more than happy to cater to entirely unique tastes. Note that you can also visit the bar for an after-brunch drink or to mingle with friends.
Perfect for All Occasions
A Sunday brunch in Brussels should offer a practical solution for a variety of requirements. Perhaps you will be arriving at our hotel with your family. You might instead be visiting Brussels for business or searching for a restaurant that is suited for special events such as birthdays or retirement parties. Either way, The Iris has your needs covered. Simply speak with one of our staff members in order to clarify your requirements. We will be happy to explain our services in greater detail.
Book Your Table
As you might have imagined, the best brunch in Brussels will attract a wide array of customers. This is why it is always a good idea to book reservations well in advance. You might otherwise find that no tables are available.
Whether you are keen to taste products offered by local farmers or you wish to avoid generic venues, the Iris Sunday Brunch represents an ideal (and tasty) solution. Please contact one of our customer service representatives to confirm your spot or if you would like to learn more about our luxurious accommodation options. The Hotel Brussels is indeed your home away from home.